Breaking Barriers: Experience AI Theory in Action at Intel® AI DevCon Beijing
Intel® AI DevCon (Intel AIDC) events bring together top minds in data science, machine and deep learning, application development, infrastructure architecture, and research to share innovative ideas and show practical implementations that break barriers between model and reality. Our AIDC event in Beijing on November 14-15 demonstrated how we enable AI deployment in China and gave developers the opportunity to connect with other AI researchers, developers, and data scientists as well as enterprise thought leaders from around the world.
Intel also launched the "AI Future Pioneers Program" at the event in collaboration with a number of Chinese academic and educational institutions. The program will facilitate multi-faceted cooperation in the fields of frontier joint research, faculties and academic team, talent cultivation and industrial connection, and actively explore new avenues of industry-academia R&D cooperation to promote the development of artificial intelligence. Project partners include top Chinese universities and research institutions, such as Tsinghua University, Shanghai Jiaotong University, Nanjing University, Xidian University and the Institute of Automation of the Chinese Academy of Sciences with the goal of exploring and promoting the development of AI talent.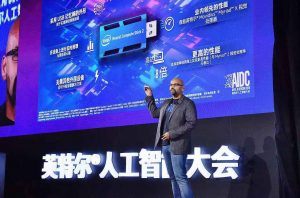 Other keynote speakers included Professor Zhi-Hua Zhou, Dean of the School of AI at Nanjing University; Long Wang, Vice President of Tencent Cloud; and Jonathan Ballon, Vice President of Intel's Internet of Things Group (IOTG). You can find more information on the event's lecture tracks, demos, hands-on labs, and poster chats below.
The AI DevCon opens with Intel's Artificial Intelligence Products Group General Manager Naveen Rao speaking on Intel's technology breakthroughs that help put AI into action, including hardware and software tools that enable developers to realize their visions. Other keynote speakers include Professor Zhi-Hua Zhou, Dean of the School of AI at Nanjing University; Long Wang, Vice President of Tencent Cloud; and Jonathan Ballon, Vice President of Intel's Internet of Things Group (IOTG). Interpreters will be simultaneously translating all keynote presentations.
LECTURE TRACKS
International Track
Advancing AI Performance using Intel® Xeon® Scalable Processor Systems
Neural Network Distiller: A PyTorch* Environment for Neural Network Compression
Intel AI for Good
The AI Journey with Intel Open Source Software
Efficient Neural Network Training on Intel Xeon Processor-based Supercomputers
 Academic Forum Track
Transfer Learning for Speech Model (Prof. Jianhua Tao, CASIA)
Feature Extraction and Bounding-Box Regression: Latest Progresses of Object Detection (Prof. Yongtao Wang, Peking University)
Signal Processing Architectures and VLSI for Energy-Efficient Intelligent Perception Systems (Prof. Fei Qiao, Tsinghua University)
Optimized Computation for Deep Neural Networks (Prof. Jian Cheng, CASIA)
Cross-domain Efficient Representations Using Deep Structure (Prof. Wenwu Zhu & Xin Wang, Tsinghua University)
Solution Track
AI-based Video Cloud best practice in iQiyi*
Cutting-edge Research to Enable Deep Learning at the Edge
Application of AI in Medical Imaging
Intel AI Applications in FSI Field
Accelerate AI Deployments on Intelligent Infrastructure Platform
Software Track
Accelerating AI inference with Intel® Distribution of OpenVINO™ Toolkit from Edge to Cloud
Analytics Zoo: Analytics and AI Pipeline on Apache Spark* and BigDL
Global Leading AutoML for Business in 4Paradigm
TensorFlow* Optimized for Intel® Xeon® Processors
Scaling Distributed TensorFlow Training with the nGraph Library
Platform Track
Intel® Movidius™ Myriad™ X overview and 3D CNN implementation on Intel® Movidius™ Myriad™ X
Intel® FPGA for AI
Understanding New Vector Neural Network Instructions
IOTG (Internet of Things Group) Video Solution Introduction
Overview of Intel® AI Builders Partner Program
DEMOS
Event demos showcase Intel's portfolio of AI hardware and software. Attendees will see a strong mix of vertical use cases and AI applications from Intel and partners in business and academia around the world. Below is a comprehensive selection of demos planned for the event.
Intel Processor-based Demos
Enhancing Motorsports with Intel AI
Reinforcement Learning Coach: A Research Framework for Reinforcement Learning
Vehicle License Plate Detection Using Intel Distribution of OpenVINO toolkit and Intel® FPGAs
Analytics Zoo – The Unified Analytics and AI Platform
Future Intel Xeon Scalable Processor with Intel® Deep Learning Boost

Partner demo:

High-Content Cellular Imaging on Intel Xeon Scalable Processors (Novartis)

Partner demo:

Intel® Xeon® Scalable Processor-based Intelligent Medical Diagnostic System in YiZhen Cloud (AccuRad Healthcare Network)

Partner demo:

QingCloud Deep Learning Platform Based on Intel Xeon Scalable Processors (QingCloud)

Partner demo:

A Comprehensive Solution to the Landing of Artificial Intelligence (4 Paradigm)

Partner demo:

Ucloud AI inference online service based on Intel Xeon Scalable Processors (UMCloud)

Partner demo:

AI-Based Industrial Vision Inspection Executed on Intel Xeon and Intel® Core™ Processors (Midea)

Partner demo:

Manifold – Intel® Core™ i7 Processors + Intel Distribution of OpenVINO toolkit-based Drone Computing Platform (DJI)

Partner demo:

CTC-Intel Joint Lab AI Integrated Platform (China Telecom Beijing Research Institute)

Partner demo:

Robotics Make Human Life Happier (Beijing Yunji Technology Co., Ltd.)

Partner demo:

PaddlePaddle* Framework Optimized for Intel Xeon Scalable Processors (Baidu)

Partner demo:

JD Magic Cam Powered by Intel Core Processors (JD.com)

Partner demo:

Lenovo AI Product Family Running on Intel Xeon Scalable Processors (Lenovo)

Partner demo:

Great Wall Digitization and 3D Virtual Restoration Using Deep Learning on Intel Xeon Processors (Intel Lab China/Wuhan University/MakerCollider)

Partner demo:

AI Full-cycle Health Management Platform for Breast Cancer (Huiying Medical Technology)

Partner demo:

Amur tiger protection using Intel End-to-End AI Technology (Intel Lab China/WWF/Hikivision)

Partner demo:

Medical Imaging Solution with Intel-optimized TensorFlow on Intel Xeon Scalable Processors (Intel ® AI Builder program member: JP Tech)
FPGA Demos
Vehicle license plate detection using Intel Distribution of OpenVINO and Intel FPGAs

Partner demo:

FPGA-Based Acceleration for Real-time Image Classification (Inspur)

Partner demo:

 Intel Arria® 10 FPGA AI Edge Solution (Corerain Technologies)

Partner demo:

Matrix 360-Degree Vision Perception System (Horizon Robotics)

Partner demo:

Dense Crowd Human Behavior Analysis Solution (Horizon Robotics)

Partner demo:

AI-assisted Image Content Detection System with Intel Arria 10 FPGA (Vismarty)
Intel Movidius Technology Demos
Intel Movidius Neural Compute Stick
Intel Movidius Myriad X VPU with Neural Compute Engine
Smart Traffic Solution with Intel® Movidius™ Myriad™ X Technology-Based Vision Accelerator
Intel® Movidius™ Myriad™ X VPU with Neural Compute Engine

Partner demo:

Horned Sungem* Intel Movidius VPU-Based AI Vision Kit (Senscape)

Partner demo:

Intel Movidius VPU-based Smart Retail Solutions (Bei Jing Vion Technology)

Partner demo:

Baidu xEye* Camera Based on Intel Movidius Technology (Baidu)

Partner demo:

On-device AI camera for Smart Home based on Intel® Movidius™ VPU (Shenzhen Simtoo Intelligent Technology Co.)
HANDS-ON LABS
AIDC hands-on labs feature Intel experts in the field of AI who help attendees experience the benefits of Intel platforms, tools, and technologies.
Reinforcement Learning Using RL Coach
Intel Distribution of OpenVINO Toolkit for Object Detection Inference and Intel® Vtune™ Amplifier for Performance Profiling
AI Training and Inference on Intel Platforms
Analytics and AI Pipeline Introduction
POSTER CHATS
All posters will be in English and highlight cutting-edge AI technologies and research across a range of disciplines.
Spatial Group Convolution – Intel Labs China
Deep Defense: Training DNNs with Improved Adversarial Robustness – Intel Labs China
Network Trimming: Faster Networking Pruning with Fewer Hyperparameters – Intel Movidius
Fast Inference via Early Exit – Intel AI Lab
Horovod Distributed Training on Kubernetes Using MLT – Intel AI Lab
Boosting Adversarial Attacks with Momentum-Based Iterative Algorithms – THU (Tsinghua University)
Skeleton-Based Action Recognition with Spatial Reasoning and Temporal Stack Learning – CASIA
Position Determines Perspective: Investigating Perspective Distortion for Image Forensics of Faces – CASIA
Distilling Knowledge from an Ensemble of Models for Punctuation Prediction – CASIA
Convolutional Interaction Network of Natural Language Inference – Fudan University
Curiosity: An Interactive System Based on Knowledge Map Exploration – Fudan University
SATB-Nets: Training Deep Neural Networks with Segmented Asymmetric Ternary and Binary Weights – USTC (University of Science and Technology of China)
DSU-Net: Cervical Cancer CTV Automatic Labelling Method Based on Convolutional Neural Network – USTC
Content to Node: Self-Translation Network Embedding – Nankai University
Active Camera Relocalization from a Single Reference Image Without Hand-Eye Calibration – TJU (Tianjin University)
Active Matting – DLUT (Dalian University of Technology)
Automatic Machine Learning Algorithm and Framework Based on Reinforcement Learning – Nanjing University
Laser Scar Detection in Fundus Images Using Convolutional Neural Networks – Renmin University
Triplet Loss in Siamese Network for Object Tracking – BIT (Beijing Institute of Technology)
Pseudo Pyramid Dilated Deeper ConvLSTM for Video Salient Object Detection – Beijing Lab of Intelligent Information Technology, BIT; Inception Institute of Artificial Intelligence, Abu Dhabi, UAE; The Hong Kong Polytechnic University, Kowloon, Hong Kong
ReCom*: An Efficient Resistive Accelerator for Compressed Deep Neural Networks – SHU (Shanghai University)
Learn More About Intel® AI 
Achieving the full promise of AI requires unprecedented choice in high-performing hardware solutions enabled by a robust software ecosystem. Intel, an innovator and collaborative partner in China, is developing flexible AI solutions that address the toughest AI challenges. For more information about Intel AI technologies and products, visit ai.intel.com.
Intel technologies' features and benefits depend on system configuration and may require enabled hardware, software or service activation. Performance varies depending on system configuration. No computer system can be absolutely secure. Check with your system manufacturer or retailer or learn more at intel.com.
Intel, the Intel logo, Atom, Core, Movidius, Myriad, OpenVINO, VTune, and Xeon are trademarks of Intel Corporation or its subsidiaries in the U.S. and/or other countries.  
*Other names and brands may be claimed as the property of others. 
© Intel Corporation