neon v1.5 released!
We're excited to release neon v1.5 with Python 2 and Python 3 support, support for Pascal GPUs (GTX 1080) and performance enhancements such as persistent RNN kernels (based on the paper by Greg Diamos at Baidu), bringing a 12x performance gain compared to v1.4.0.
Highlights from this release include:
Python2/Python3 compatibility [

#191

]

Support for Pascal GPUs

Persistent RNN kernels [

#262

]

Dataloader enhancements (audio loader with examples)
HDF5 file data iterator

Convolution kernel improvements

Cache directory cleanup

Reorganization of all unit tests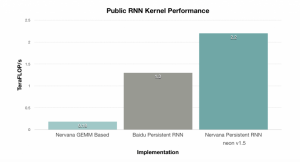 RNN kernels benchmarked on Titan X with batch size 4 and 1152 activations. Public Baidu kernels from GitHub.
As always, you can grab this release from github at: https://github.com/NervanaSystems/neon